February 8th, 2006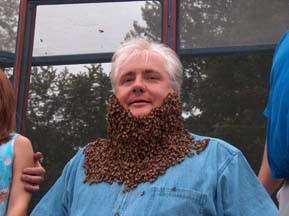 Thanks to a generous DARPA pre-study mini grant, I have been provided with 24 monkeys and 250 typewriters to further the scientistic world's understanding of pre bee beard thought processes in males age 62-89. After 1,000 years of carefully randomized testing, we are now able to update the list provided in our proposal with the addition of the following potential thought statement:
 Woah– GLTerminal? Cool!
As per usual, that was 1.3 million exceptionally well spent. Follow up studies may include whether I am at risk for suffering through a bee beard, since the above statement ran through my mind too.